India Meteorological Department ( IMD ) has issued Red message or code for West Bengal And North Odisha Coasts indicating extreme weather conditions due to Super Cyclone Amphan. A Red Message by IMD for cyclone Amphan indicates extremely heavy rainfall and that authorities must take action. They have also published latest hourly updates on SUPER CYCLONIC STORM AMPHAN OVER NORTH WEST BAY OF BENGAL & ADJOINING WEST CENTRAL BAY OF BENGAL.
The Date/Time of observation is 0630 HRS IST OF 20-05-2020 / 0100 UTC OF 20.05.2020.
CURRENT LOCATION LATITUDE/LONGITUDE OF AMPHAN
SUPER CYCLONE AMPHAN CENTRED AT 0630 HRS IST OF TODAY, THE 20TH MAY 2020, AS AN EXTREMELY SEVERE CYCLONIC STORM OVER NORTHWEST BAY OF BENGAL NEAR LAT. 19.45°N AND LONG. 87.52°E, ABOUT:
125 KM NEARLY SOUTH-SOUTHEAST OF PARADIP.
240 KM SOUTH OF DIGHA.
395 KM SOUTHWEST OF KHEPUPARA (BANGLADESH)
CURRENT INTENSITY NEAR CENTER
170-180 KMPH GUSTING TO 200 KMPH.
OBSERVATIONS FROM THE COAST
WIND-SPEED: PARADIP-106, CHANDBALI-74, BHUBANESHWAR56, BALASORE-59, PURI-39 AND GOPALPUR-4 KMPH.
RAINFALL: PARADIP-197.1, CHANDBALI-60.4, BHUBANESHWAR45.6, BALASORE-52.2, PURI-82.0 AND GOPALPUR-8.6 MM.
SINCE 08:30 IST OF 19 MAY 2020.

PAST MOVEMENT
MOVED NORTH-NORTHEASTWARDS WITH A SPEED OF 14 KMPH DURING PAST 6 HOURS.
FORECAST MOVEMENT, INTENSITY AND LANDFALL
TO MOVE NORTH-NORTHEASTWARDS AND CROSS WESTBENGAL-BANGLADESH COAST BETWEEN DIGHA AND HATIYA CLOSE TO SUNDEBANS DURING AFTERNOON TO EVENING OF TODAY WITH A WIND SPEED OF 155-165 KMPH GUSTING TO 185 KMPH.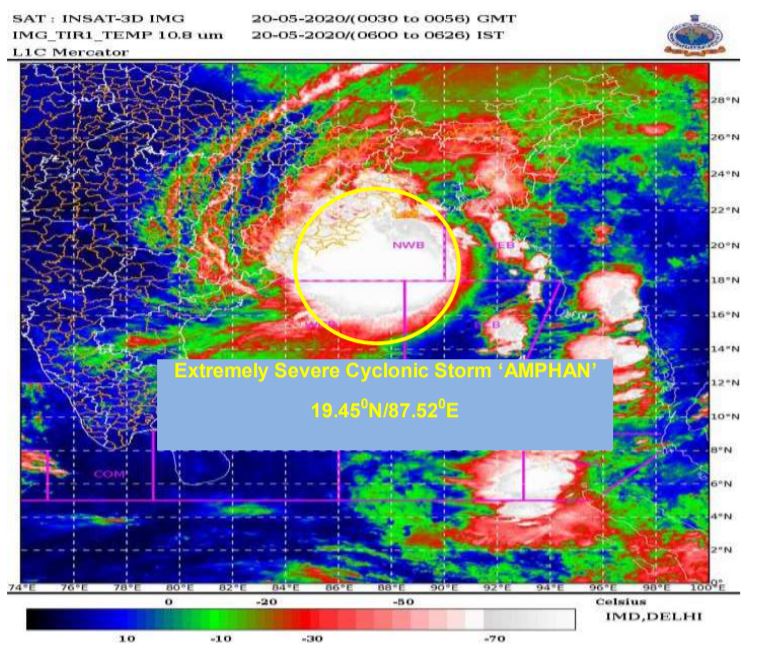 IMD has also updated about the impact of the cyclone and extent of damage expected:
Super Cyclone AMPHAN is a very intense cyclone with associated wind speed of 200-210 kmph. It is located about 125 km south-southeast of Paradip.
It is expected to cross West Bengal–Bangladesh coasts between Digha (West Bengal) and Hatiya Islands (Bangladesh) close to Sundarbans during afternoon to evening of 20th May 2020.
It will hit land with wind speed of 155-165 kmph gusting to 185 kmph.
It will cause heavy to extremely heavy rainfall over Gangetic West Bengal and heavy to very heavy rainfall over north coastal Odisha on 19th and 20th. It will also cause heavy to very falls over SubHimalayan west Bengal & Sikkim on 20th & 21st and Assam & Meghalaya on 21st May.
Storm surge of about 4-5 meters above astronomical tide is likely to inundate low lying areas of south & north 24 Parganas and about 3-4 meters over the low lying areas of East Medinipur district of West Bengal during the time of landfall.
This cyclone has extensive damaging potential. It will cause extensive large scale damage.
Damage expected over West Bengal (east Medinipur, south & north 24 Parganas, Howrah, Hoogli, Kolkata districts) and action suggested
Extensive damage to all types of kutcha houses, some damage to old badly managed Pucca structures. Potential threat from flying objects.
Extensive uprooting of communication and power poles. Disruption of rail/road link..
Extensive damage to standing crops, plantations, orchards. Blowing down of palm & coconut trees. Uprooting of large bushy trees. Large boats and ships may get torn from their moorings.
Fishermen Warning & Action Suggested:
Total suspension of fishing operations till 20th May 2020.
Diversion or suspension of rail and road traffic.

People in affected areas to remain indoors. Mobilise evacuation from Low lying areas.
Movement in motor boats and small ships not advisable.
(Damage expected over Odisha (Jagatsinghpur, Kendrapara, Bhadrak, Balasore, Jajpur & Mayurbhanj)
Total destruction of thatched houses/ extensive damage to kutcha houses. Potential threat from flying objects. Bending/ uprooting of power and communication poles.
Major damage to Kutcha and Pucca roads. Minor disruption of railways, overhead power lines and signalling systems.
Widespread damage to standing crops, plantations, orchards, falling of green coconuts and tearing of palm fronds. Blowing down of bushy trees like mango.
Small boats, country crafts may get detached from moorings.
Fishermen Warning & Action Suggested:
Total suspension of fishing operations till 20th May 2020.
Diversion or suspension of rail and road traffic.
People in affected areas to remain indoors.
India and Bangladesh government are evacuating millions of people as a precautionary measure from the coastal areas where Amphan will make landfall today.
On Monday, 18th May Indian Prime Minister Narendra Modi chaired a high-level meeting to review the response measures and preparations against cyclone 'Amphan' developing in the Bay of Bengal. It was informed in that meeting that 25 National Disaster Response Force (NDRF) teams have been deployed on the ground while 12 others are ready in reserve. 24 other NDRF teams are also on standby in different parts of the country.