According to Indian Meteorological Department (IMD) cyclone Amphan will cross West Bengal-Bangladesh coasts between Digha (WB) and Hatiya Islands (Bangladesh) close to Sundarbans during the afternoon to evening hours of May 20.
As the cyclone 'Amphan' is expected to make landfall on today, heavy rain & strong winds hit Bhadrak district in Odisha.
Fire Services team RE clearing road blockage near R&B office in Bhadrak to facilitate the movement of vehicles, essential commodities, and emergency service personnel. #CycloneAmphan
District administration of Bhadrak have arranged for cooked food at Cyclone centers.
Policewoman are in the forefront performing duties be it pandemic or cyclone.
Odisha Disaster Rapid Action Force (ODRAF) are deployed to for Amphan. ODRAF has distinguished itself as a premier disaster response force with high quality training and equipment. Odisha Disaster Rapid Action Force (ODRAF) is the first of its kind in India, is a force of 20 units carved out of the Orissa Special Armed Police (OSAP), Armed Police Reserve (APR), India Reserved (IR) Battalion and Specialized India Reserve (SIR) Battalions. With only about 50 personnel per unit of ODRAF, it is structurally a lean organization.
NDRF team is also deployed at Bhardak.
#CycloneAmphan caused damage to power supply infrastructure in #Bhadrak
While Residents of Tajpur in West Bengal's East Medinipur create a temporary fence along the coast in wake of #AmphanCyclone (ANI)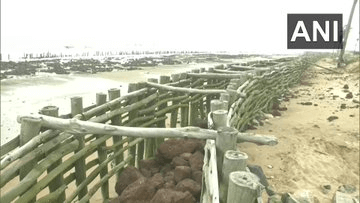 Residents are posting pictures on Twitter showing dark dense clouds and heavy rain battering the district.
One resident said "It's seems to look like evening, but actually it's around 2:30 pm today. Here is a glimpse of weather now near our home.".