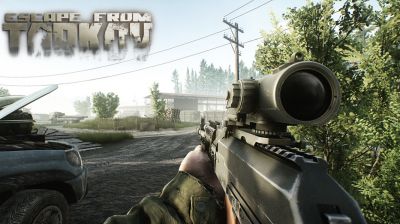 Escape from Tarkov developers Battlestate Games have revealed what is coming in their next update, patch 12.5 – with a few long-awaited changes set to finally hit the live servers.
One of the biggest additions that comes with this is the Therapist service, which can heal a character after a raid is done.
Also, the location map has been moved to a separate button from the matching screen. The Hideout and Main Menu options will be found now at the bottom of the screen. Also, the user interface comes with minor adjustments, so make sure you understand it before you start playing.
The update will have an impact on the use of items, too. You won't be able to use a second item until you're done with the first. This means that there will be some delays, so make sure you have your strategy together.
Even though the hype generated around Escape from Tarkov because of all the Twitch drops in early 2020 has faded a bit, the shooter and looter's hardcore fanbase is still running raids.
One of those long-awaited changes will come in the form of tweaks and optimization for optics. Players have noted that using a scope can tank their frame rate, and although some have found workarounds, things are officially changing. Variable zoom is also coming into play, though mouse sensitivity will play a part in that. 
When is the EFT 12.5 update?
There is no date for the release of the 12.5 patch, though some players have speculated that it will drop at the start of May. However, there will be no wipe with this patch, so you don't have to worry just yet.
The full patch notes, including bug fixes, for the upcoming 12.5 update can be found below, via Reddit.
Escape from Tarkov update 12.5 patch notes
Optimizations:
Redesigned part of the optics functionality, which reduces the occurrence of errors and on some PC configurations gives an increase in performance while aiming.
Fixed some subsystems that could cause short-term freezes.
Various minor performance improvements
Added:
New Therapist service – quick treatment, available at the end of a raid. Allows you to heal the character immediately after the raid, as well as shows the sources of damage in untreated parts of the body in the raid.
"Hideout" and "main menu" are added to the panel at the bottom of the screen for quick access
In-game color correction settings (post-fx)
Various improvements to the UI layout
Added dependence of mouse sensitivity on the multiplicity of optics
Fixed:
Fixed one of the bugs where the grenade and its explosion were not visible
Fixed a bug with the missing image in optics after reconnect

Fixed a bug displaying the movement of the bots in the third person
Fixed a bug where money could be spent on insurance from the character's inventory, and not from the stash
Fixed a bug that blocked the entire interface when calling the context menu
Fixed one of the bugs that caused the player to see the "Leaving the game" error before the end of the raid
Bolt-action sniper rifles have a shot sound delay removed
Fixed a bug where the sharpness setting was reset
Fixed an exploit with a door pushing the player out at an Interchange that allowed you to get into a locked pharmacy
Fixed a bug with displaying the map if you zoom in and out
Fixed incorrect display of a third-person grenade throw

Adjusted the position of the weapon behind the character's back
Fixed a minor bug that turned on the flashlight when getting into the Hideout
Fixed cursor position offset when dragging windows (inspector menu\looting interfaces) for 2K resolution
Fixed a bug that left the inspector window open if you close it via ESC
Fixed a bug where aspect ratio changed every time the game was launched
Fixed a bug where the stock of weapons in the inventory does not fold if the player is holding a melee weapon
Fixed a bug where the context menu on the map screen disappeared
Various bug fixes on locations
Many different fixes in the interfaces

Various bug fixes for AI behavior
Various minor bug fixes and improvements
Changed
Location map moved from the matching screen to a separate button
Now, when using items, the use of the new item is blocked until the use of the previous one is completed