50,000 year old Lonar lake in India has turned pink overnight and everybody is baffled about the reasons behind this change. 
Facts About Lonar lake
Lonar Lake, also known as Lonar crater, is a notified National Geo-heritage Monument lake, located at Lonar in Buldhana district, Maharashtra, India.
Lonar Lake was created by an asteroid collision with earth impact during the Pleistocene Epoch some 50,000 years ago.
It is one of the four known, hyper-velocity, impact craters in basaltic rock anywhere on Earth. The other three basaltic impact structures are in southern Brazil.
Lonar Lake has a mean diameter of 1.2 kilometres (3,900 ft) and is about 137 metres (449 ft) below the crater rim. The meteor crater rim is about 1.8 kilometres (5,900 ft) in diameter.
Why The Lake Turned Pink
Satellite photos from NASA show the lake on May 25 still sporting its green hue before a second image from June 10 shows the changeover.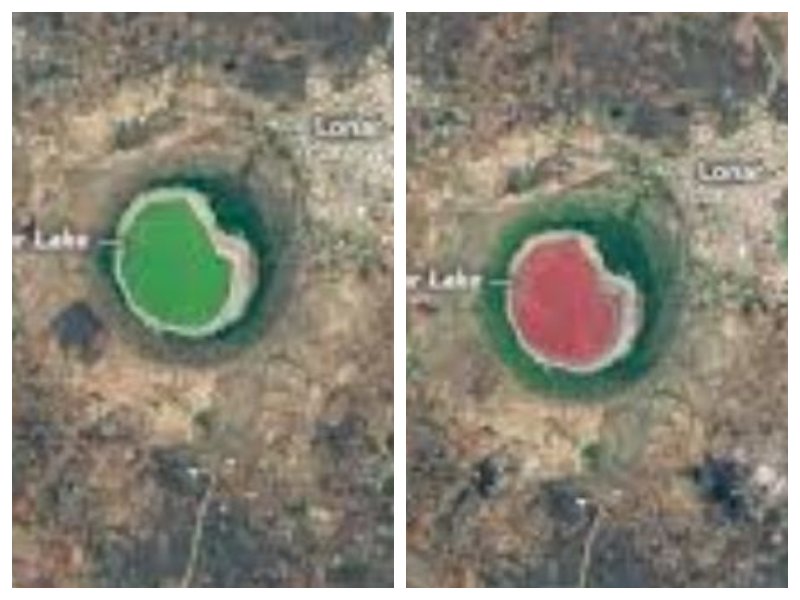 Gajanan Kharat, a local geologist, said in a video posted to Maharashtra Tourism's Twitter feed, that this has happened before, but was not as prominent.
"It's looking particularly red this year because this year the water's salinity has increased," he said. "The amount of water in the lake has reduced and the lake has become shallower, so the salinity has gone up and caused some internal changes."
"There are algae in the water body. The salinity and algae can be responsible for this change," he said.
"There is no oxygen below one meter of the lake's water surface. There is an example of a lake in Iran, where water becomes reddish due to an increase in salinity," he noted.
Kharat said that researchers are also investigating if the presence of red algae caused the color change.
Dr Madan Suryavanshi, head of the geography department of Aurangabad's Dr Babasaheb Ambedkar Marathwada University, said looking at the scale of this colour change, "this can't be a human intervention".
"In case of a natural phenomenon, there are fungi which generally give a greenish colour to water most of the times. This (the current colour change) seems to be a biological change in the Lonar crater," he said.
During the lockdown phase, there may not have been any disturbance to water which led to this change, he said.